Damian Avila
Owner / Chef / Pitmaster
"I love having people come up to me after they eat a meal and thank me for the delicious food. It brings me such satisfaction; and that is why I love this business. You have to have passion to achieve your goals, or it just becomes a Job."

Damian Avila
Damian discovered his passion for cooking when he was a young boy in Mexico City, watching his mom cook delicious food for the family. He was her assistant, her sous chef and dishwasher. He fondly remembers going to his uncle's house where they would cook the lamb over the homemade firepit they made by digging a hole in the ground. Damian enjoyed watching the process of cooking the lamb for many hours, and then being able to enjoy that beautifully tender meat with tortillas. He told his dad that he was going to do that one day.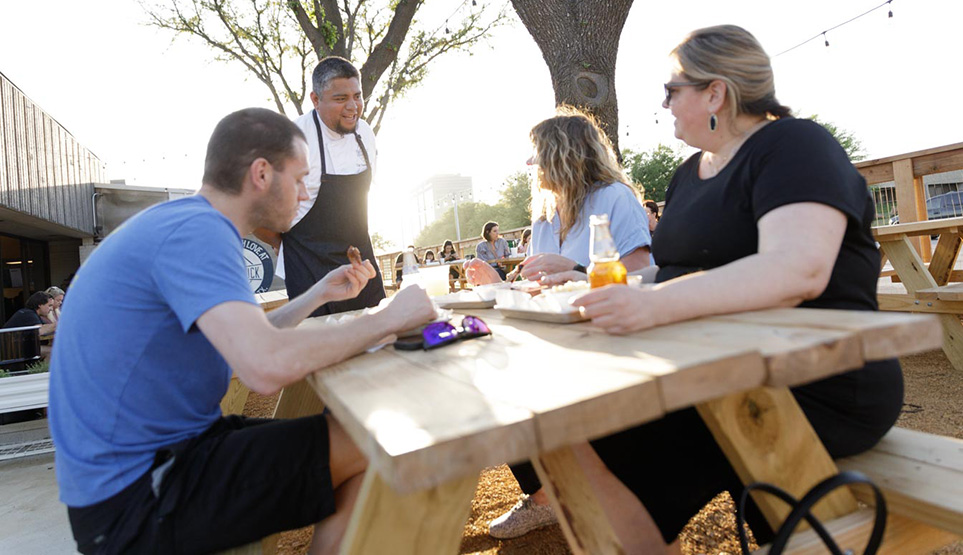 When Damian was 15, he went into a local restaurant and told the owner he wanted to be a chef and he landed his first restaurant job. He reported to work the very next day at 8 am to start his culinary journey and he was handed a bucket and mop and was asked to clean the floors, followed by cleaning the dishes, the bar and anything else that could be cleaned. Long story short, he never cooked a single item at this restaurant, but he grew an appreciation for the work that goes into operating a restaurant.
At just 16 years of age, Damian set out to follow his dream of becoming a chef or at least working for a chef and so he came to America full of aspirations. While the path and early years in America were not easy, he eventually accepted a position as a cook for a restaurant in downtown Dallas called Ninfa's where he learned a lot about the restaurant kitchen, the tools and equipment, the processes, and what Americans consider good Mexican food (insert giggle). On weekends, he began cooking in the backyard with friends, building a little smoker out of a barrel and perfecting his lamb recipe. Because he was now in Texas, he also ended up always cooking brisket, ribs, chicken and sausage.
In 2004, Damian started working as a server and then bartender at On the Border. It was a different experience, being involved in a big corporate chain, but there was a lot to learn in terms of restaurant operations. He eventually moved into the kitchen and wore several hats as he worked every station on the line, expo and catering to eventually becoming the assistant manager. After nearly 8 years at On the Border, Damian developed valuable skills in cooking, operations, and management both in the kitchen and on the dining floor, in addition to playing a key role in the continued success of the restaurant.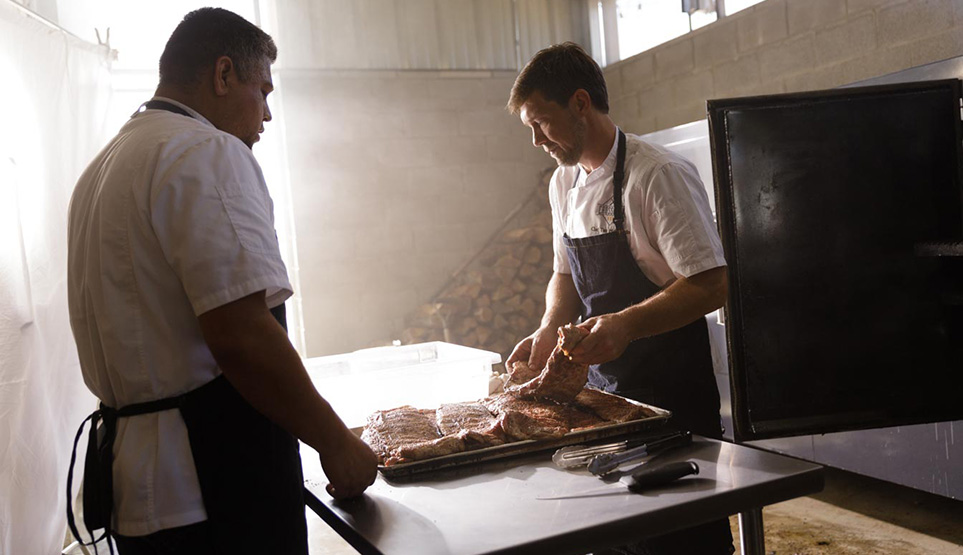 Eventually it was time to move on and in 2012 Damian took a new position at Lockhart Smokehouse in Dallas where he quickly proved that he was not only hardworking and had years of restaurant operations knowledge, but he was talented in the culinary arts, specifically in the "art of smoke". He started as a cook, and then became the kitchen manager and famed Pitmaster. The restaurant made the list of the top 50 BBQ joints in Texas, and so it was vitally important that Damian oversee and maintain a high quality, consistent product day-in and day-out. Additionally, his creative energies could be unleashed with daily specials as he experimented with alligator ribs, rabbit and even shark. As this restaurant grew from 1 location to 3 locations, Damian eventually became the Director of Operations over 2 of the Lockhart Smokehouse outlets. The restaurants continued to flourish both in popularity and profitability under his direction.
Realizing it was time to break off on his own, Damian partnered with good friend and mentor Tim McLaughlin and Crossbuck BBQ was born. Damian is fulfilling his American dream of not only owning his own restaurant, but creating food that he is proud to call his own.