Brisket Smoking Class
How to Smoke a Central Texas Style Brisket
Whether you are trying to smoke your first brisket or looking for troubleshooting assistance, you first need to understand that smoking a brisket is as much of an Art as it is a Science. Like any scientific method, you can often achieve more consistent results by controlling variables. But, given the infinite number of variables involved in smoking a brisket, being able to adapt is really the key to success.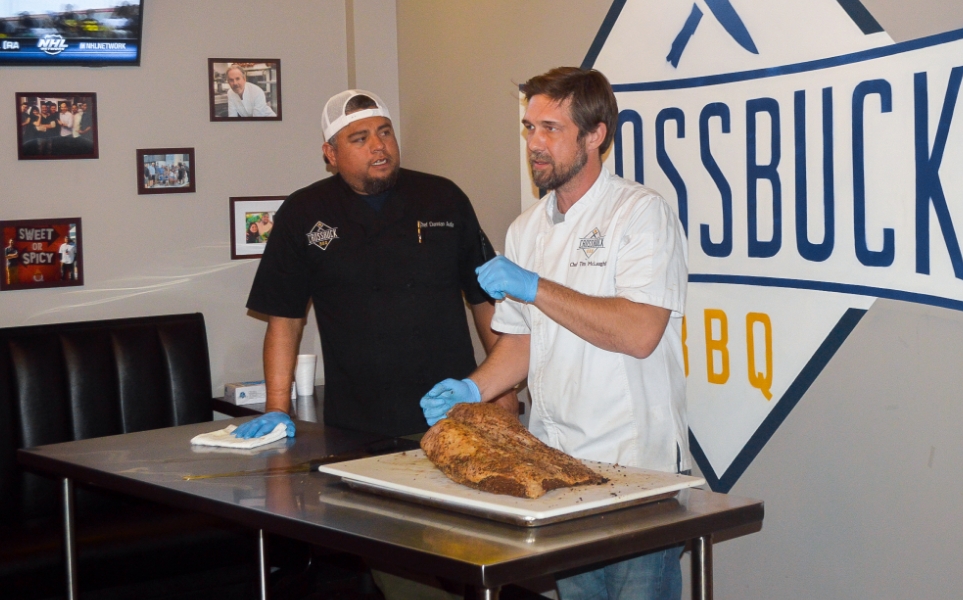 BBQ & A
In the following pages and videos, I engage in a BBQ & A with Crossbuck BBQ's chef-pitmasters as we walk through the entire process of how to create an authentic Central Texas style smoked brisket - the type of brisket made popular by the smoking techniques used in Lockhart, Texas – The Barbecue Capital of Texas.
Background Info
How to Cook a Texas Style Smoked Brisket
10 Steps to Smoking a Great Brisket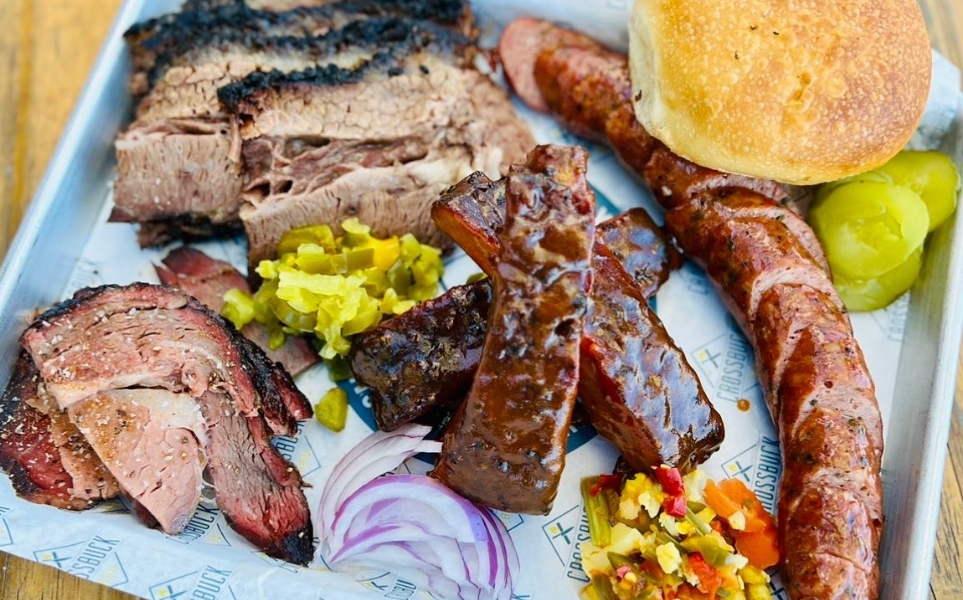 Serving, Sauces, & Sides
Central Texas style brisket is not just known for its taste, it's also stands out as it was historically served butcher counter style, with no sauce, no sides and sometimes no utensils. It's known for being served with basic white bread, sliced onions, pickles and peppers - sort of like you see here without the fresh-baked Crossbuck roll.
Footnotes & Disclaimers
It's probably also worth mentioning that people's tastes vary tremendously when it comes to brisket. Beyond the basic "lean or fatty" question, different palates prefer different smokes, different flavors, and different sauces. In the restaurant world, you learn real quickly how to develop a thick skin…especially in Texas…where a disproportionate number of people consider themselves BBQ critics.
Our goal with this class is to help you understand how Central Texas style brisket is prepared...not convince you that it is the best brisket or what you should like. It's what we think is think is the best smoked brisket in America and what we love.
Also, it is important to note that there is lot of guidance online about how to smoke a brisket and much of this information is based on one's process, equipment, timing concerns and possibly even competition rules.
Realistically, smoking a brisket on a small backyard pellet smoker or Kamado style grill is going to be different than a large, wood-fired, offset smoker.