Central Texas Style Smoked Brisket
While Memphis, Kansas City and Carolina can all lay claim to being barbecue meccas, there is little debate that Texas is the home of barbecued brisket. And, once you start talking about brisket, it won't be long before you'll hear about Lockhart, Texas…The Barbecue Capital of Texas, according to Texas State Legislature. While there are other styles of Texas BBQ, there is little debate that Central Texas is what people associate Texas style brisket with. So, what is "Authentic" Central Texas style brisket?
"Authentic" Central Texas Style Brisket
As one can imagine, there is a lot of debate when it comes to what exactly "Authentic Central Texas style brisket" is. Most Texas pitmasters have adapted their recipes, processes and related elements to better comply with customer's tastes, health standards, service expectations, etc. Even in Lockhart, Texas, the old-school restaurants have changed over the years...so we asked Tim for his top 5 elements of a Central Texas style brisket.
As the former pitmaster for the iconic Lockhart Smokehouse in Dallas, Texas, Tim spent more than a decade of his life studying and smoking Central Texas style briskets, cooking over 200,000 of them and training scores of both professional and amateur pitmasters. Here is what he had to say.
Central Texas style brisket is cooked low n' slow using mainly post oak wood. They use big, Texas-sized briskets and a rub of mainly salt and pepper before smoking them for about 12 to 18 hours. The result is a tender, juicy brisket with a crisp, "sugar cookie" crust…or bark.
The 5 Key Elements of "Authentic" Central Texas Style Brisket
1. You cook it low 'n slow in wood-fired, offset smokers using indirect heat powered mainly by post oak wood - no gas, no charcoal.
2. You don't trim it before cooking and you cook it fat-side up. You want the flavor to come from the fat, the smoke and the rub...they all work together.
3. Your rub should be mainly salt and pepper.
4. You don't use a water pan. You don't spritz. And...you never wrap it during the cooking process. Not in butcher paper. Not in foil. Not in anything. It's this dry cooking process that really allows the flavor to come from the smoke and the meat.
5. Served butcher-style, ordered at a counter and cut to order to your liking: lean, fatty or a little of both.
Tim's 5 Subtle Enhancements
6. The Wood – To give it a little more interesting flavor, Tim adds in a little hickory and fruit or pecan wood to his fire.
7. The Rub – As a former fine dining chef, Tim eschewed the "only use salt and pepper" advice and layered in some additional flavors including sugar.
8. The Brisket – Tim wet ages very large (over 16-pound) choice briskets for longer than most.
9. The Way You Order – Crossbuck has plates and normal small, medium and large sizes so customers don't end up over-ordering - one of their biggest complaints.
10. The Lines & Uncertainty – Many Central Texas BBQ joints pride themselves on their long, slow-moving lines and the fact that they run out of meat. Crossbuck was set up to go serve faster and minimize outages.
Crossbuck's Major Enhancements
11. Served with a fresh-baked roll instead of a piece of basic white bread.
12. Served without sauce, but two house-recipe sauces are available if you want them.
13. Tasty sides – While the meat is still the "Star of the Show" - Crossbuck offers a number of interesting side dishes including some designed to actually balance out the heavy meats...like salads and vegetables.
14. Desserts – Crossbuck has fresh baked cookies and typically offers a "Bread pudding of the Day."
15. Brisket Candy – Took part of the brisket to create a burnt end with a Texas Twist.
In summary...when Tim created Crossbuck BBQ & Smokehouse, he wanted to ensure that the traditions of Central Texas brisket survived. So, he worked with M Grills to develop two of the largest smokers ever built and dropped them into an enclosed room that would allow him the most control possible over the smoking process. He created his own special rubs, tweaked the smoke with a little hickory and fruit wood to give it a bit more flavor and then developed a process to vacuum seal the flavor in so it could be delivered nationwide.
Ship Crossbuck's Central Texas Style BBQ Nationwide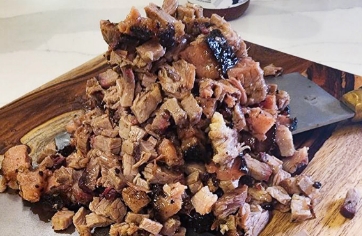 Chopped Brisket
Served in convenient oven-safe, vacuum-sealed, 1 lb. bags.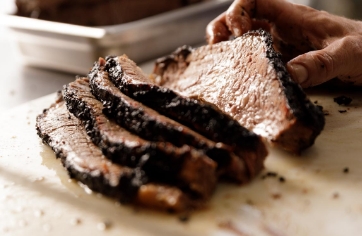 Sliced, Half or Whole Brisket
Served in convenient oven-safe, vacuum-sealed, bags.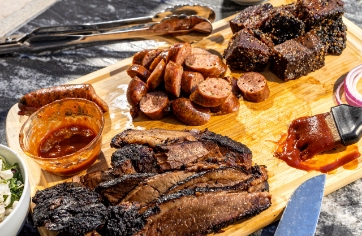 Samplers and Gift Packs
Central Texas Style Brisket + other Crossbuck favorites.