Our Menu
Our menu was created by fusing tried-and-true BBQ smoking techniques with classical French and Asian cooking techniques to create the perfect marriage. Besides offering traditional BBQ meats, Crossbuck brings you everyday options like salmon and prime rib as well as an array of specials, and expanded catering and online nationwide shipping options.
Additionally, we use fresh, quality ingredients and let our minds wander a bit from the traditional BBQ fare, to offer an array of sides that will truly delight the senses.
---
BBQ PLATES
---
Includes 2 Sides of your choice, Bread & hearty portion of Protein
Looking for a Two Meat Plate? Just go ½ and ½.
Still not enough…try The Big Boy or Check out our A La Carte Menu!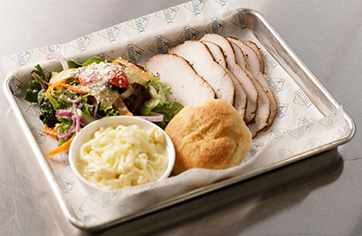 Brass Collar Turkey Breast Plate
Marinated and rubbed with our savory herb blend...juicy and sophisticated (GF)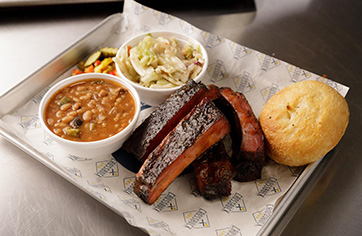 St. Louis Style Pork Ribs Plate
Cooked to the perfect bite and finished with CB spiced local honey...money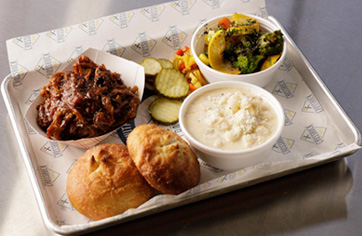 Black Molasses Pork Butt Plate
Kicked up a notch with Hoisin sauce and secret spices...tell your cool friends about it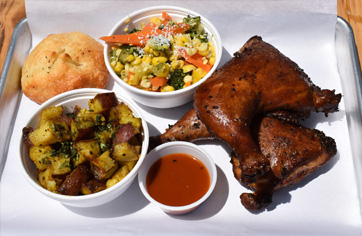 Smoked Chicken Legs Plate
Juicy dark meat chicken, marinated with soy, ginger and secret spices...shhh!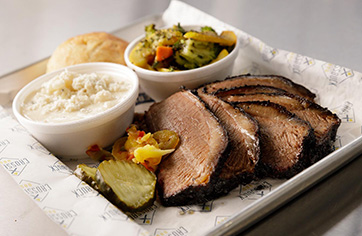 Texas Style Brisket Plate
Crossbuck Original Recipe, the gold standard...loud and proud (GF)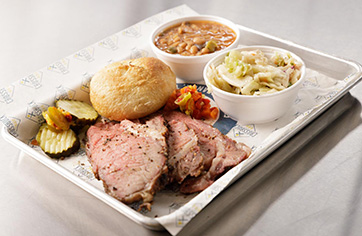 Smoked Prime Rib Plate
Generously coated with our three-pepper rub and basted with bacon fat...that said "basted with bacon fat" (GF)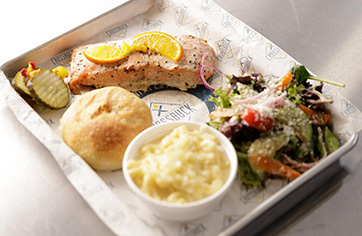 Citrus Glazed Salmon Plate
Thoughtfully sourced and gently smoked with citrus...the jogger's BBQ (GF)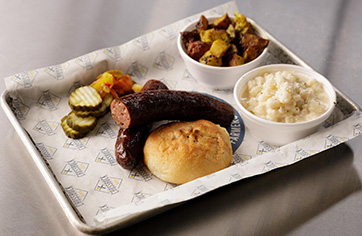 CB's House Sausage Plate
House recipe sausage with smokey poblano peppers
---
Sides
---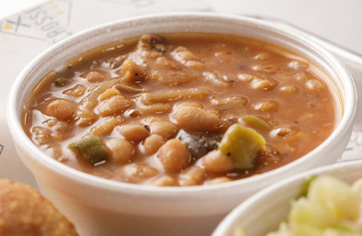 Baked Beans
with soy-smoked onion and Anaheim chili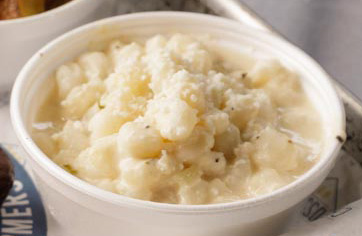 Desert Line Hominy
with epazote, fresh herbs, spices and cotija (GF)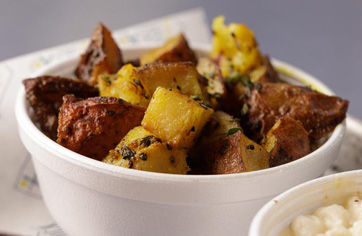 Smoked & Roasted Potatoes
with smoked scallion and olive oil (GF)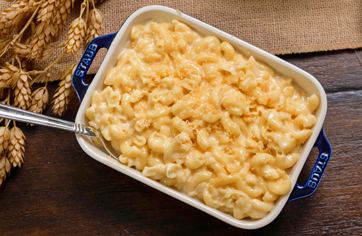 Mac N' Cheese
Vermont white cheddar cheese and smoked garlic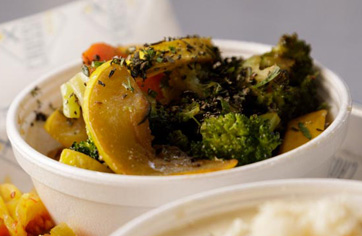 Smokemaster's Vegetables
Seasonal vegetables with smoked three onion butter (GF)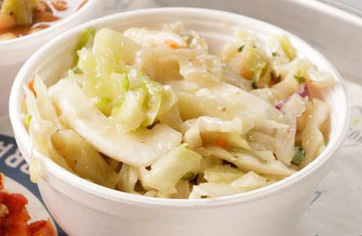 Miso Honey Slaw
Crisp slaw with miso, honey and pickled ginger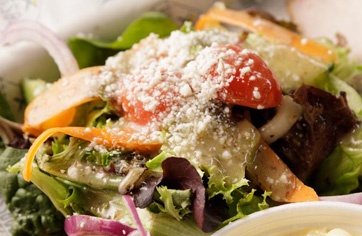 Yardmaster's Salad
Fresh greens with CB Ranch or CB Vinaigrette (GF)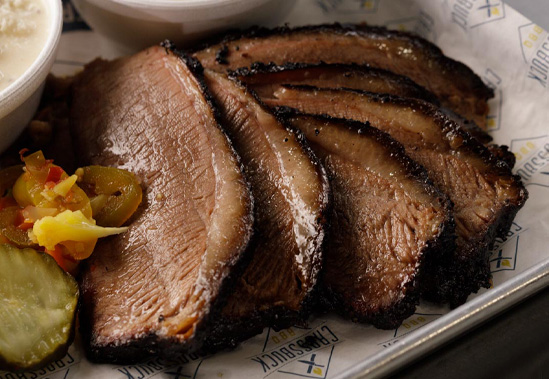 Texas Style Brisket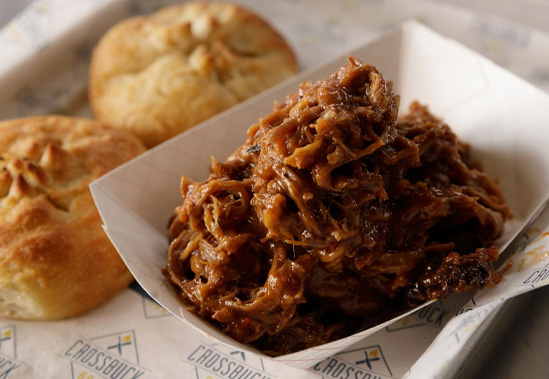 Black Molasses Pork Butt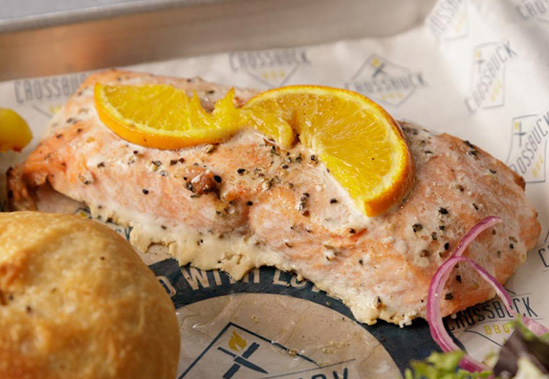 Citrus Glazed Salmon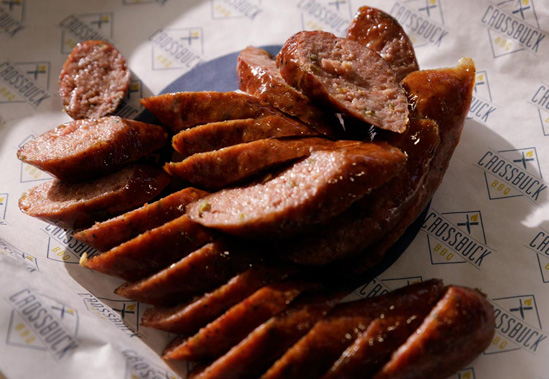 CB's House Sausage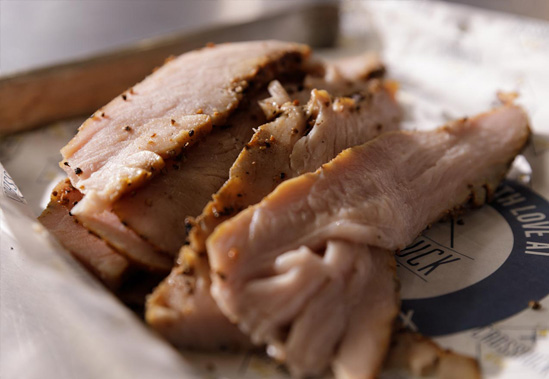 Brass Collar Turkey Breast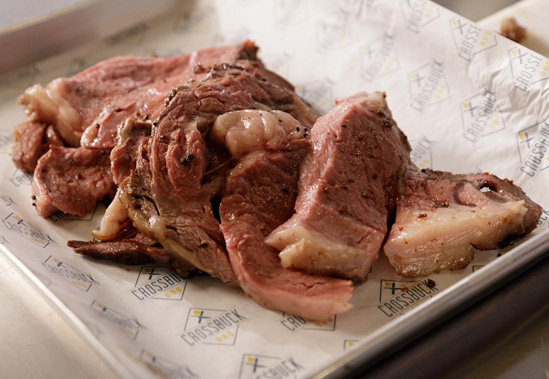 Smoked Prime Rib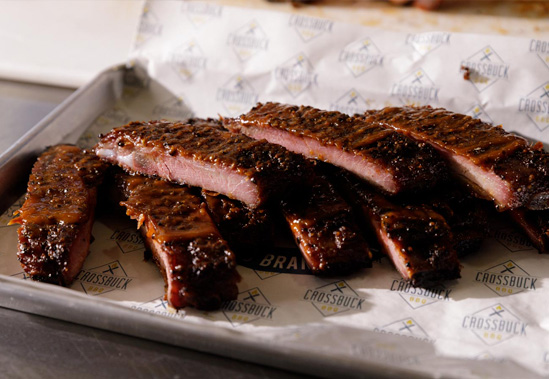 St. Louis Style Pork Ribs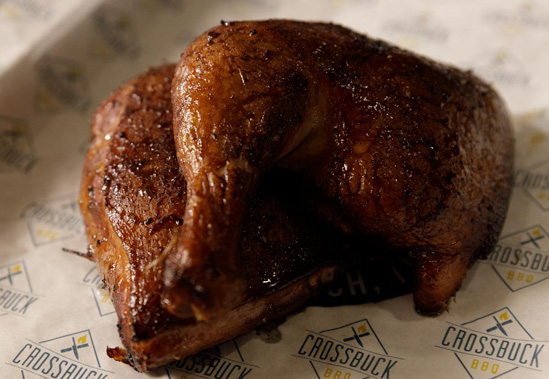 Smoked Chicken Legs
---
PROTEINS & SIDES - A LA CARTE
---
Just the Proteins

(descriptions above)

SMALL
(over 1/4 lb)
MEDIUM
(over 1/2 lb)
LARGE
(over 1 lb)
Brass Collar Turkey Breast
$5.65
$11.29
$22.49
St Louis Style Pork Ribs
$5.95 / 2 Ribs
$11.89 / 4 Ribs
$23.69 / 8 Ribs
Black Molasses Pork Butt
$5.49
$10.98
$21.89
Smoked Chicken Legs
$5.15 / 1 Pcs
$10.29 / 2 Pcs
$20.49 / 4 Pcs
Texas Style Brisket
$7.50
$14.99
$29.95
Smoked Prime Rib
$9.00
$17.99
$35.89
Crossbuck Burnt Ends
$8.00
$15.99
$31.95
Citrus Glazed Salmon
$6.50
$12.99
$25.89
CB's House Sausage
$4.30 / Half Link
$8.59 / 1 Links
$17.09 / 2 Links
Just the Sides

(descriptions above)

| | | |
| --- | --- | --- |
| | SMALL | LARGE |
| Baked Beans | $3.00 | $4.00 |
| Desert Line Hominy | $3.00 | $4.00 |
| Smoked & Roasted Potatoes | $3.00 | $4.25 |
| Mac n' Cheese | $3.25 | $5.00 |
| Smokemaster's Vegetables | $3.15 | $4.50 |
| Miso Honey Slaw | $3.00 | $4.00 |
| Yard Master's Salad | $5.00 | |
GF - Gluten Friendly