Meet Our Pitmasters
Tim McLaughlin and Damian Avila are co-owners of Crossbuck BBQ, located in the Farmer's Branch suburb of Dallas, Texas.
Unlike many Texas Pitmasters, Tim traversed a very unique path in his career. After graduating from the prestigious Le Cordon Bleu culinary school in Scottsdale, Arizona, Tim spent a decade creating gourmet French and Asian cuisine in some of St. Louis's finest restaurants and hotels before being lured to Texas with a lucrative corporate chef position.
Fortunately for the BBQ world, the travel requirements in this new position put a strain on his young family and Tim started looking for another opportunity. This is where fate brought Tim together with Jill and Jeff Bergus. Jill was the step-granddaughter of Texas BBQ legend Edgar "Pappy" Schmidt and had crafted a plan to bring central Texas style BBQ to Dallas..they just needed a chef and pitmaster.
Enter Tim. While BBQ was not a subject taught in French culinary schools, his extensive knowledge of preparing proteins, layering flavors, and creating foods that appealed to multiple senses served him very well.
He immersed himself in the study of smoking meats. He traveled to Lockhart – the Barbecue Capital of Texas. He observed Roy Perez of the legendary Kreuz BBQ. Along the way, he even rubbed elbows with the backyard brisket king, Aaron Franklin, for a week while on the set of BBQ Pitmasters.
Over the course of his BBQ career, Tim trained dozens of pitmasters including his partner in Crossbuck BBQ, Damian Avila. The pair estimate that they have smoked over 200,000 briskets in their careers and are happy to share their experiences to help make you a better BBQer.
Next Topic - What is Central Texas style Smoked Brisket
Ship Crossbuck's Central Texas Style BBQ Nationwide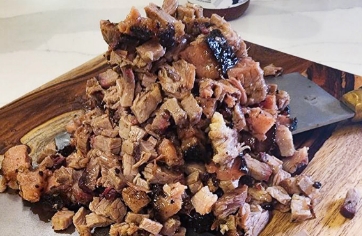 Chopped Brisket
Served in convenient oven-safe, vacuum-sealed, 1 lb. bags.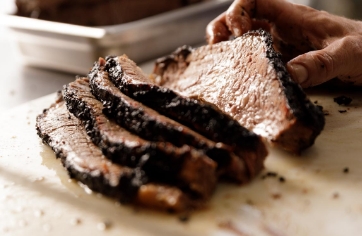 Sliced, Half or Whole Brisket
Served in convenient oven-safe, vacuum-sealed, bags.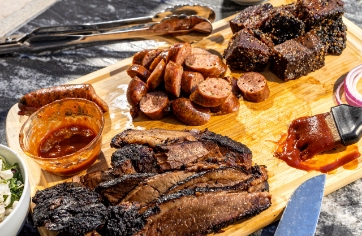 Samplers and Gift Packs
Central Texas Style Brisket + other Crossbuck favorites.