When is Brisket Done Smoking
In part 8 of our BBQ & A with our Pitmasters and Chefs, Tim McLaughlin and Damian Avila, we tackle what is probably the most challenging question backyard BBQers have, "How do I tell when my brisket is done smoking."
Background
Most pitmasters agree that determining when a brisket is done smoking is more of an art than a science, so with that in mind, here is a video from their Brisket Smoking Class.
BBQ Student: Do you ever use a thermometer to see if the brisket is done.
Damian: As general rule, we never poke a hole in the meat. If you do, the juices can flow out and dry out the brisket.
BBQ Student: Are there any general rules to follow for how long it should take?
Tim: We tell people that a good rule of thumb is about 1 hour per pound, but we also quickly follow that up by saying that smoking a brisket is not a perfect science. Our experience is that most people don't cook their brisket long enough. They then run into real problems when they taste the edge piece and try to use that as a gauge for the entire brisket.
For the brisket to be cooked properly, this edge piece should be overcooked.
BBQ Student: So that's the burnt edge used to make burnt ends?
Tim: Maybe at first, but once brisket burnt ends started to become very popular, they started to be made out of the point.
Ship Crossbuck's Central Texas Style BBQ Nationwide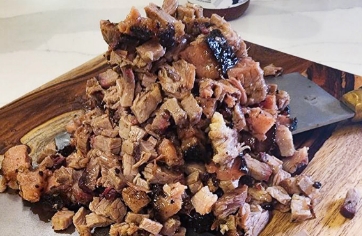 Chopped Brisket
Served in convenient oven-safe, vacuum-sealed, 1 lb. bags.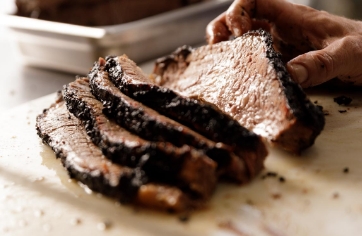 Sliced, Half or Whole Brisket
Served in convenient oven-safe, vacuum-sealed, bags.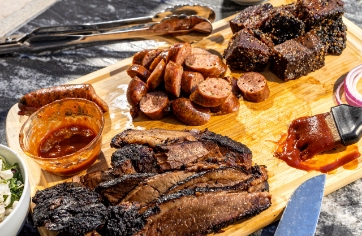 Samplers and Gift Packs
Central Texas Style Brisket + other Crossbuck favorites.