Sauces, Sides and Serving
For people outside of Texas...and even many in Texas, the "Authentic" Central Texas style of BBQ is about more than just the food, it's about the experience. And to many, it's an odd experience.
The Introduction
Given that many of the original Central Texas BBQ joints evolved from butcher shops, they still operate in a similar manner. Essentially, they utilize counter-service ordering and your first encounter is with the meat cutter. This person will ask you what meats you want and then proceed to cut you "approximately" the amount that you request. For the purpose of this article, we are going to stick with brisket.
Lean or Fatty
If you ask for brisket, the next question may be "lean or fatty?" To the uninformed, this may sound like an easy question. I mean, who wants a fatty piece of meat? Interestingly, the "fatty" or point part fo the brisket tends to be a bit more flavorful...so many people actually prefer it. If it's your first time ordering Central Texas brisket, I'd recommend asking for a slice of each so you can make your own choice.
Unlike filet mignons or strip steaks, you are going to specify how rare or well done you like your steak, but the cutter may be able to find a piece that meets your liking if you can describe what you like.
How Much to Order
Tim says that one of biggest complaints he got at his previous restaurant was that people over order and ended with a huge bill. I can say that this is typically a problem for me. Not only did I want to order every type of meat, but my eyes are always bigger than my stomach. So, the last time I visited Lewis BBQ, the bill for my wife and I for lunch was $87.
To a large degree, Tim and Damian resolved this issue by creating small, medium and large sizes that align better with how most people eat.
Sauces
Like Tim, I'm from St. Louis...although I travel a lot and live down South for much of the year. I can say that outside of Texas, most BBQ is associated with sauce. Not in Texas. In Texas, the brisket is the undisputed star of the show. It's not supposed to be brushed, dipped or coated in sauce. Despite my love for BBQ sauce, I actually agree with this concept...good Central Texas style brisket does not require (or even benefit from) sauce in my opinion. However, for some odd reason, I still end up using it sometimes...especially if I am putting on a sandwich.
Sandwich?
Traditional Central Texas BBQ joints are not big on serving sandwiches. You can't find them on the menu at some of the classic Lockhart, Texas joints, but upstarts like Aaron Franklin offer one and others have added sandwiches to their menus.
At Crossbuck BBQ, we'll feature sandwiches on the menu periodically, but we also let people build their own...we just butterfly one of our fresh baked rolls and ask them how much meat they want. Sauces, onions, pickles and relish are complimentary.
Sides
Historically speaking, since these restaurants evolved from butcher shops, they did not initially offer sides...they offered sliced onions and pickles, but not much else. Over time, most evolved to at least offer some of the basics like baked beans, cole slaw, mac 'n cheese and potato salad.
When Tim opened Crossbuck, he wanted his menu to have a bit more variety and some sides to offset the heavy meats so he added options like salads and vegetables. He says that doing so has made Crossbuck BBQ much more popular with the ladies.
White Bread
I believe that this is the dumbest element of Central Texas Style BBQ. It's traditionally served with slices of white bread. Some things need to evolve and I am so happy that Tim replaced this tradition with fresh baked rolls that are actually one of my favorite parts of my meals at Crossbuck!
Ship Crossbuck's Central Texas Style BBQ Nationwide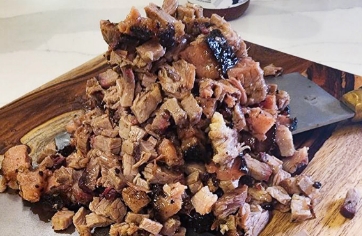 Chopped Brisket
Served in convenient oven-safe, vacuum-sealed, 1 lb. bags.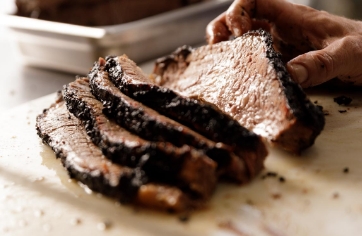 Sliced, Half or Whole Brisket
Served in convenient oven-safe, vacuum-sealed, bags.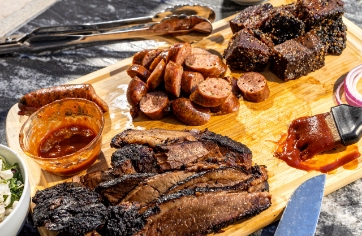 Samplers and Gift Packs
Central Texas Style Brisket + other Crossbuck favorites.